Excellence in Mathematics
Mathematics tuition is undergoing a revolution with new research-driven pedagogic techniques enabling far greater levels of learning, retention and understanding with outstanding results.
Get the very best in private education for your son or daughter with MB Mathematics Tuition.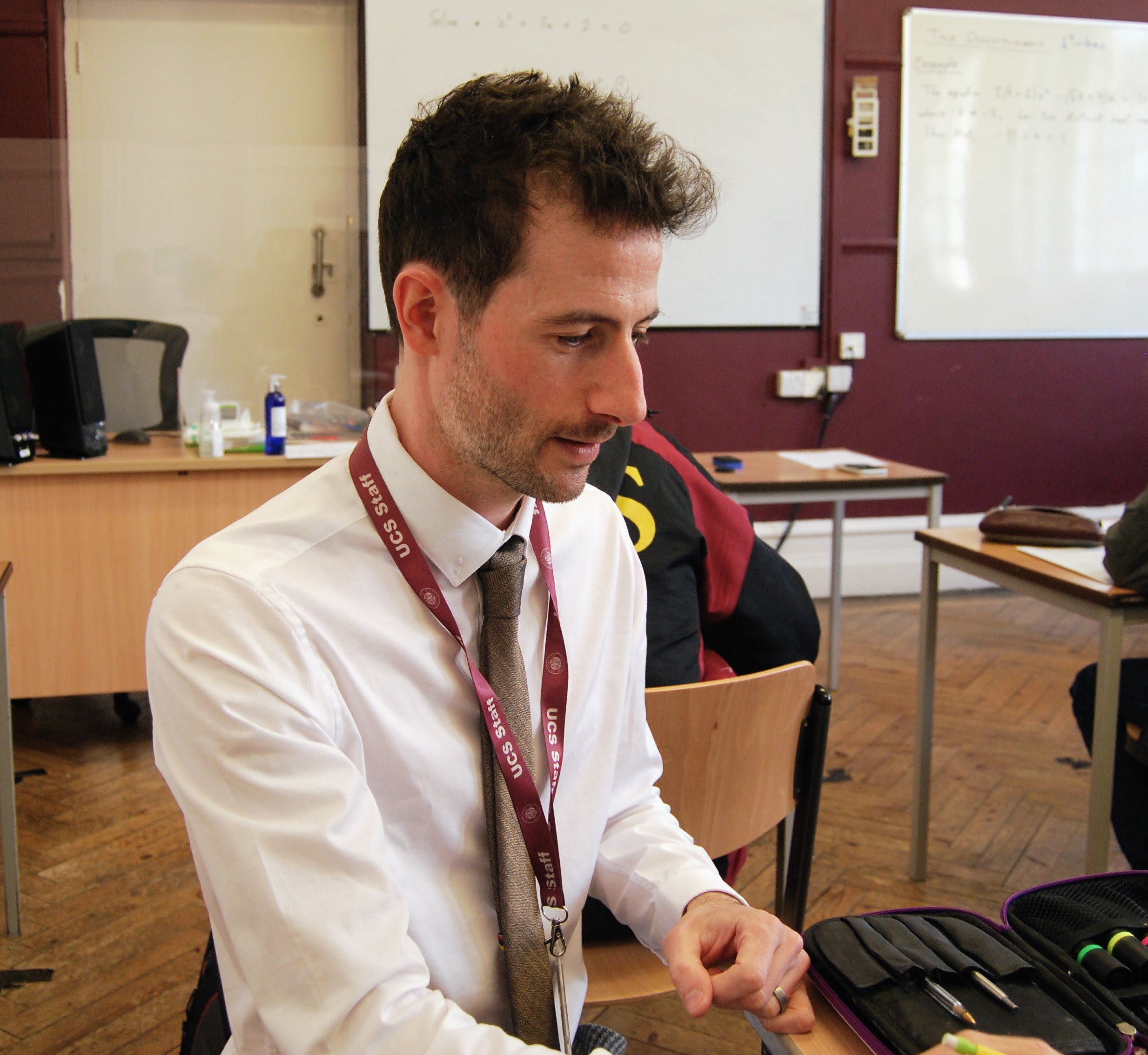 13 years in the classroom
I have delivered outstanding results at two of the top independent secondary schools in London, including record results every year as Head of Mathematics. And I am now available for private tuition.
Under my revolutionary pupil-centred and trusted leadership, I have transformed grades at University College School – an active member of the prestigious Eton Group and one of the UK's leading independent schools. In 2017-18, my first year at UCS, I delivered the best results in Mathematics the school had ever seen. I then built on that success breaking that record again in 2019. The following two years, 2020 and 2021, were very different owing to Covid-19, but the trend continued.
The parents' choice
During my 13 years as a teacher of Maths I have been able to offer exclusive private tuition to students attending a range of state and independent schools, whose parents have heard of my successes and want the best start in life for their children. I am now delighted to offer tuition places to a select cohort of up to ten students of Mathematics keen to achieve top grades, with some places reserved for sixth form students looking to attend Oxbridge Interviews and achieve success in their MAT, STEP, TMUA or AEA exams on top of their A levels.
World class educator
I have given sessions at conferences including a keynote lecture at Universidad de Alicante and 5 packed sessions at the annual UK MEI Conference, with a sixth lined up for 2023. I have also tutored countless pupils from over the world including online tuition for pupils across Europe. Through consultation with my fellow members of the Eton Group I am privy to cutting-edge insights into the teaching and learning of Mathematics at the highest levels. Through my transparent and focused approach I am well positioned to help your child become the best mathematician they can possibly be.
Fully DBS-checked. Certificate available on request.
Confident students, delighted parents
Wonderful tutor highly recommended! He helped both my sons to enjoy Math by making it fun and engaging without losing track of the curriculum.
Thank you Mr Bullock for helping me to further my Maths knowledge. As an A-Level Maths and Further Maths student you helped me to consolidate my knowledge while exploring more advanced topics. I am now ready to tackle the challenges of STEP and I hope to apply to Cambridge this year.
Encouraging, personable, flexible and adept at mathematics, Micky helped me prepare for my STEP exams very effectively. He was impressively dynamic and could solve seemingly any question on the spot.
Thank you so much, Oli. It was really enjoyable working with you and the progress you made was extraordinary. Best of luck with everything! Micky
I came to Micky for help with my MAT exam. I was doing Further Maths and wanted to apply for Oxford.
I came out of each session feeling like I understood the mathematical world better than before.
I came into it panicked and unprepared, and finished feeling confident and ready for the exam.
Thanks for all your help, Mr Bullock
Micky, thank you for all you have done over the past months. I am well aware that Cambridge has been a real stretch for John, and we are realistic about the chances of success. But whatever transpires I know that he has learnt so much from you and has been enriched by your relationship. This has been particularly strong over the past months with all that has transpired. I'll keep in touch and fill you in on how it goes. You are a wonderful teacher.
Micky tutored me through my Maths and Further Maths A-Levels and was able to push me towards achieving great grades (A*s in both!) but also taught me to approach problems logically and with confidence. The confident, logical approach Micky was able to instil within me has stayed with me throughout my academic career- through my degree and two professional qualifications! I am so grateful to have had Micky as a tutor!
My son found working with Micky for his TMUA exam very useful. He didn't just give him solutions, he worked with him to draw out information , he had already acquired in AS to tackle the exam questions. He also provided him ,with some useful methods to use in the exam. Excellent tutor to work with any ability.
Micky has helped my son gain perspective and helped him increase his confidence enormously . He's gone from thinking he can't keep up well in class to achieving and maintaining a high standard
Micky has been helping our daughter to improve her maths after she was having confidence issues at the start of Y10 GCSE. Micky is an excellent tutor, with a personable and fun approach that really resonates with our daughter, so that she looks forward to the sessions as a way of filling in any areas that she hasn't quite "got" in normal school lessons. His experience as a maths teacher has been invaluable both in providing some perspective for us on how our daughter is progressing and improving her skills in immediate and tangible ways.
Fees
Fees are never raised for existing customers. This includes for younger siblings of existing tutees.
A level Maths and Further Maths; IB

with Oxbridge Interview Practice and STEP/MAT by arrangement (premium service)
GCSE or IGCSE (UK years 9-11)
Key Stage 3 (UK years 7-8)

with 13+ exam preparation by arrangement
Primary/Prep School

with 11+ exam preparation by arrangement
Online or In-Person
1 hour
World class online tuition using Zoom

Teaching and learning using a shared whiteboard

Judicious use of GeoGebra and Desmos for dynamic geometry
Oxbridge applicants: interview practice and STEP
1 hour
Premium service for those aiming for Mathematics or Computer Science at Oxford or Cambridge
Advance insights into interviews and anticipated questions
Cancellation Policy
No-shows and cancellations made within 4 hours of the start of the booked tutorial are charged at 100%. However, if a replacement tutorial is then agreed and it takes place within 3 days (subject to the tutor's availability, which is not guaranteed), this is reduced to 20%.
In the case of a late arrival, the remaining tutorial period is charged at 100%.
Micky's Background
Originally from Ilkley in West Yorkshire, Micky gained AAAA at A level (Maths, Further Maths, Physics, Chemistry) and went to study BSc (Hons) Mathematics at the University of Nottingham, graduating in 2005.
After two years' work in the IT industry, he did a PGCE at the University of Leeds, gaining Qualified Teacher Status, before heading off to London.
He worked for 7 years at Forest School, E17, teaching Maths and Further Maths to ages 11-18 and working closely with Oxbridge applicants to prepare them for STEP, MAT and their Oxbridge interviews. He has given a number of professional talks and workshops at events, including 5 sessions at the annual MEI Conference, 3 talks at MathsJam and a keynote speech at the X Jornades d'Educació Matemàtica at the University of Alicante. He was promoted to School Timetabler in 2016 – and building a timetable for a school remains one of the hardest maths problems he says he's ever solved!
From September 2017 to June 2021, Micky was Head of Mathematics at University College School, Hampstead. There he managed a team of 19 staff and enjoyed great successes. He moved to Bristol in July 2021 and, as well as being a professional tutor, is a student of Electrical and Electronic Engineering at the University of Bristol.